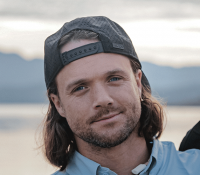 Growing up in the Midwest, Louie spent time on the water with his family tubing and fishing on nearby lakes. Always intrigued by angling, it was a bonding opportunity with his father and grandfather.
The similarities between snowboarding and fishing are clear to Louie – the personal drive to improve and always looking ahead to what's next, be it a fish on the hook or a jump on the mountain. The need to be aggressive yet relaxed, and the need to adapt on the fly transcend both activities for Louie.
Louie thrives on immersing himself in other people's worlds. He is captivated by learning new things, and then successfully applying them in real-world scenarios. Regardless of the activity, Louie strives to be the best.
Follow Louie on Instagram, Facebook and Twitter.
Charity Competing for: Keep America Fishing

Grassroots advocacy for America's anglers, working to minimize restrictions, promote clean water and restore fish populations.