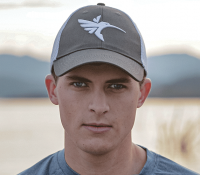 Tyler began fishing with his grandpa while still in diapers. It's not something he remembers discovering, but rather an activity that has always been a part of his life. He grew up bass fishing with family at Lake Travis in Texas. Through high school and college, he maintained his dedication to fishing as a way to unplug from school while keeping connected with his friends. 
Tyler is passionate about mentorship and has been able to use his platform as a way to help others grow their skills faster than was ever possible before. Being on the leading edge of new media for fishing content has allowed him to connect with newer and younger anglers to help develop the next generation of enthusiasts.
Follow Tyler on Instagram, Facebook, YouTube and Tik Tok. 
Charity Competing for: Kids Outdoor Zone

Kids Outdoor Zone is an outdoor adventure ministry that provides kids with mentors and direction to become Godly adults.