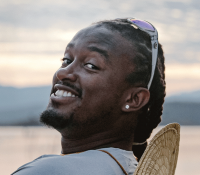 A self-proclaimed "Country-Bred City Boy," Willie was introduced to fishing at a young age by his father. He grew up fishing in Florida and Georgia with a cane pole for bluegill, but quickly became a student of the different species found in the area and the techniques required to be successful.
Willie had to get creative to balance fishing with his athletic career when he accepted a scholarship from North Carolina State to play football. In 2010, Willie was drafted by the NFL, starting an eight-year career as a defensive end with the Detroit Lions and then the Chicago Bears. Through his playing years, he continued to fish at every opportunity.
A true competitor, Willie takes fishing seriously and enjoys putting the puzzle together to be successful regardless of which waters he is fishing or which species he is chasing. But Willie never loses sight of the positive impact fishing has had on him, and the strong bonds he has made with other anglers.
Follow Willie on Instagram and Twitter.
Charity Competing for: Take Me Fishing

Take Me Fishing™ and Vamos A Pescar™ encourages people to spend more time on the water boating and fishing, and conserving our aquatic resources.